CLICK ON PICTURE FOR MORE IMAGES AND SLIDE SHOW
1967 CHEVROLET
CAMARO
COMPLETE RESTORATION - UPGRADE!!!!!!
350 CU IN ENGINE WITH ALUMINUM INTAKE AND HOLLEY PERFORMANCE 4 BBL CARB
350 TURBO AUTOMATIC TRANSMISSION
POWER STEERING, POWER FRT DISC BRAKES, WOOD STEERING WHEEL
ALUMINUM RADIATOR WITH ELECTRIC COOLING FAN - HEI IGNITION
HOOKER HEADERS WITH DUAL EXHAUST
BLUE PRINT ENGINES ALUMINUM HEADS - SERPENTINE BELT SET UP
ALL CHROME / BILLET UNDERHOOD COMPONENTS
BRIGHT GREEN EXTERIOR WITH NEW BLACK BUCKET SEAT / CTR CONSOLE INTERIOR
ADDED GAGE PACK - AM/FM RETRO FIT AUDIO SYSTEM
FRONT AND REAR SPOILERS - BLACK STRIPES
RIDLER 20" REAR WHEELS 8" FRONT
THIS VEHICLE IS AS NEW UNDERNEATH AS IT IS ON TOP
SHOW READY AND FAST, FAST, FAST !!!!!!
WHAT A SHOW STOPPER !!!!
CLICK ON PICTURE FOR MORE IMAGES AND SLIDE SHOW
$ CALL TODAY !!! !!!
***********************************************
LOCATED IN BEAUTIFUL GREENVILLE, SOUTH CAROLINA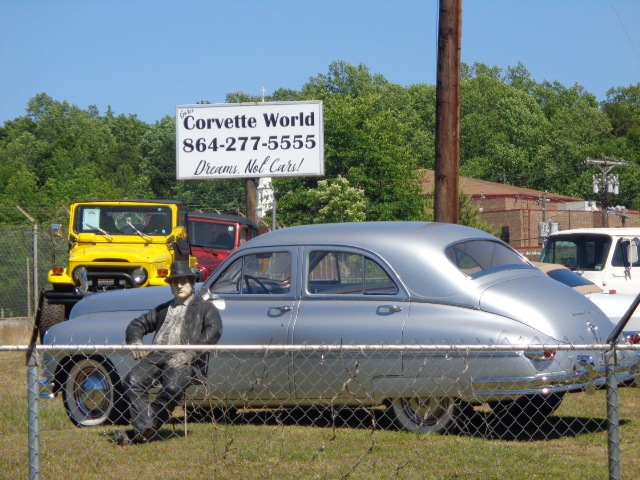 Contact Information
Telephone (864) 277-5555

FAX (864) 277-7999

POSTAL ADDRESS:

1006 MAULDIN RD GREENVILLE SC 29607

General Information: jarch02@aol.com
Sales: corvetteworld72@aol.com
Webmaster: jarch02@aol.com

CELL PHONE NUMBERS

GENE GORE DAVID JARCHOW

(864) 430-8214 (864) 423-7817